Detecting and Dealing with a Gmail Breach: Signals and Actions to Take
Maintaining online security is vital. Google has revealed important signs indicating a possible breach of your Gmail account and has recommended actions to be taken to mitigate such threats.
Alarm Signals
One of the most obvious signs of a breach is unusual activity on your Google or Gmail account. Unauthorised changes to the password, the recovery telephone number or the inability to access your account are alarm bells that cannot be ignored.
Google suggests that you pay particular attention to any unexpected or unknown actions that could compromise the security of your account.
"If you notice unfamiliar activity on your Google Account, Gmail, or other Google products, someone else might be using it without your permission. If you think your Google Account or Gmail have been hacked, follow the steps below to help spot suspicious activity, get back into your account, and make it more secure. "

Google Account Help
Actions to be Taken
If you suspect suspicious activity on your account, it is crucial to act quickly. The first step is to log into your account. In case you cannot log in, Google offers a recovery page to assist you.
Once inside your account, check your recent activity. Go to the Security section in your Google Account, then review recent security events. Any suspicious activity must be promptly reported by selecting 'No, it wasn't me'. You will follow a guided procedure to protect your account.
Check the devices using your account. If you notice unfamiliar devices, report the situation immediately.
Strengthening Security
Google recommends activating two-step verification for an additional layer of security. Also, if you suspect a broader compromise, consider restoring to factory settings, removing any suspicious apps or extensions.
Avoid using the same password for other services, protecting your Google Account from possible external hacking.
Maintaining security online is crucial. Following these steps can help detect and mitigate possible breaches of your Gmail account, ensuring the protection of your data and privacy.
Guide: What to do if your Gmail account has been hacked
If you notice any of these signs, it is important to act quickly to protect your account. Here are the steps to follow:
Access your account. To access your account click here. If you cannot log in, you will have to go to the Google account recovery page.
Review your account activity. Go to your Google Account and select Security in the left-hand panel. Now look under Recent Security Events and choose Review Security Events. Look for any activity that seems suspicious or unknown.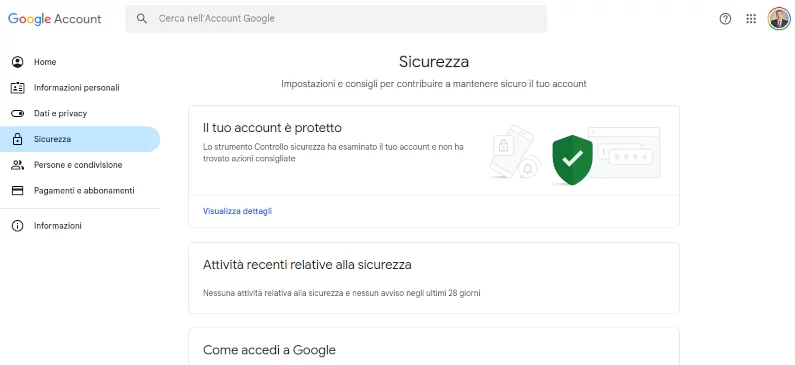 Change your password. Use a complex password that you have not used in other accounts.
Activate two-step verification. Two-step verification adds an extra layer of security to your account.
Control the devices using your account. Go to your Google Account and select Security > Your devices > Manage devices. If you see devices you do not recognise, select Do not recognise a device?
How to protect your Gmail account
In addition to following the steps above if your account has been hacked, you can also take some measures to protect it in the future:
Use a complex and unique password for your Gmail account.
Activate two-step verification.
Avoid clicking on links or opening attachments from unknown e-mails.
Keep your device's software up-to-date.